Clear eco bailers for Sampling Groundwater
We manufacture a large variety of Clear PVC eco Bailers for your groundwater sampling needs. These bailers are designed with a special valve and valve seat to provide more positive sealing and less clogging when removing the bailer from the well.
PVC – PRO: We have innovated a new class of wide mouth bailer in 1.5 inch diameter.
PVC and PVC – PRO eco Bailers are clear and are available in Regular and Weighted formats.
All bailers are PFAS, PFOS & PFOA free.
Bottom Emptying
The 0.46 inch (12 mm), 0.7 inch (18 mm), and 1.5 inch (38 mm) bailers come with the handy  Emptying Device which can also be used to direct the discharge flow and also for collecting VOC samples.
Groundwater Filtration
Clear PVC eco Bailers are easily fitted to Waterra 0.45 micron Groundwater Filters if your program specifies collection of samples for metals analysis.
Low Density Polyethylene (LDPE) tubing (1/4inch OD or 1/2 inch OD)  fits into the Bottom Emptying Device and connect with a Waterra Groundwater Filter. Bailed samples can be gravity flowed directly through the filter and captured in a sample container.  It usually takes less than 2 minutes (depending on turbidty)  to filter a sample this way.
Some things to think about!
CLEAR PVC ECOBAILER - FAST SINKING
Clear PVC eco Bailers for sampling groundwater are as heavy (or heavier) than conventional weighted bailers.  They sink straighter and the efficient valve design makes it the fastest sinking bailer available.
4 popular sizes: 0.46, 0.7, 1.5 and 3.3 inch diameters
PRO – wide mouth available in 1.3 inch diameter only
faster sinking than polyethylene bailers
inspect your sample through the clear tube
fits with Waterra inline filters
no leak PVC ball
Clear virgin PVC has a density of 1.31 grams per cubic centimeter versus polyethylene, which has a specific gravity of 0.96 to 0.98.
Clear PVC eco Bailers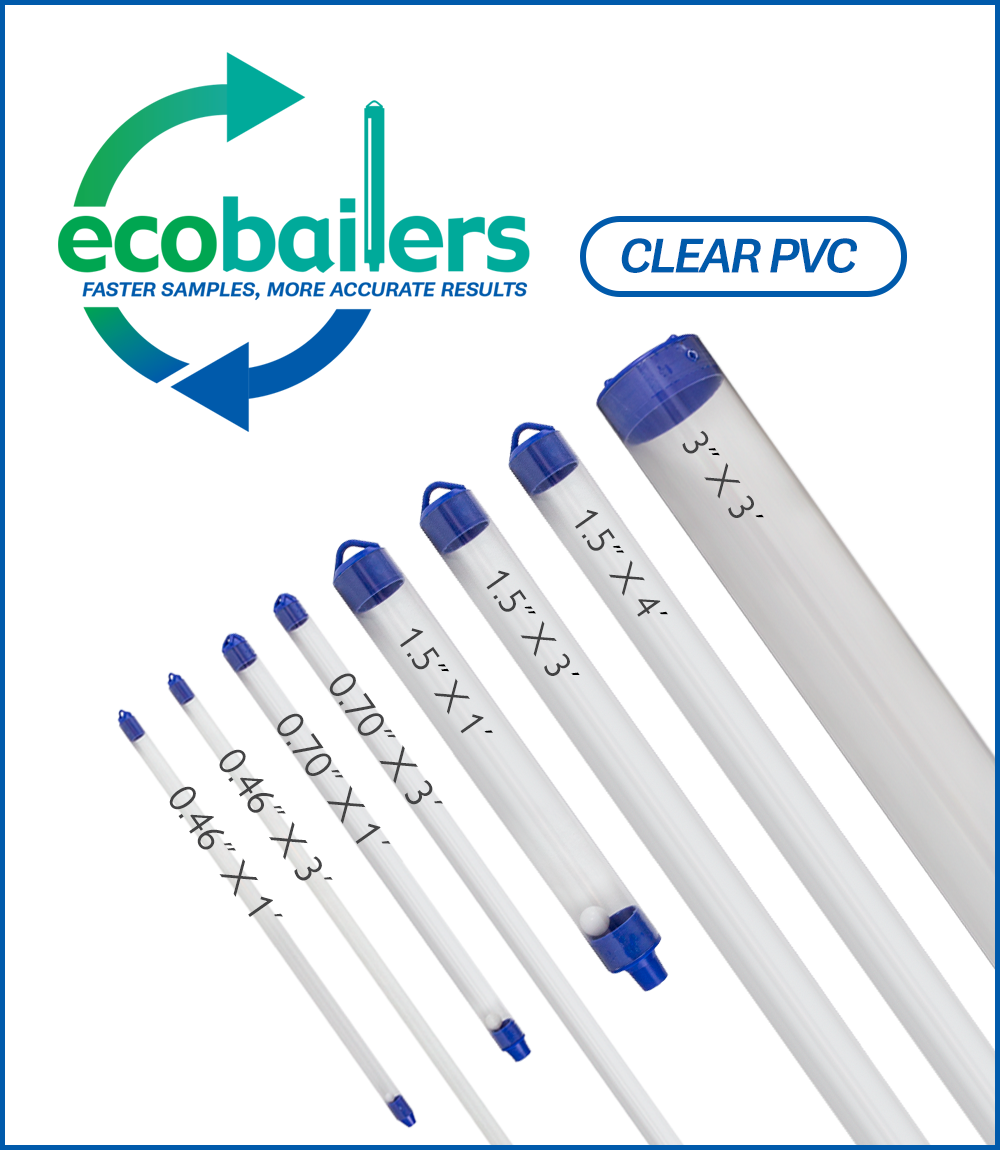 Clear PVC - PRO eco Bailers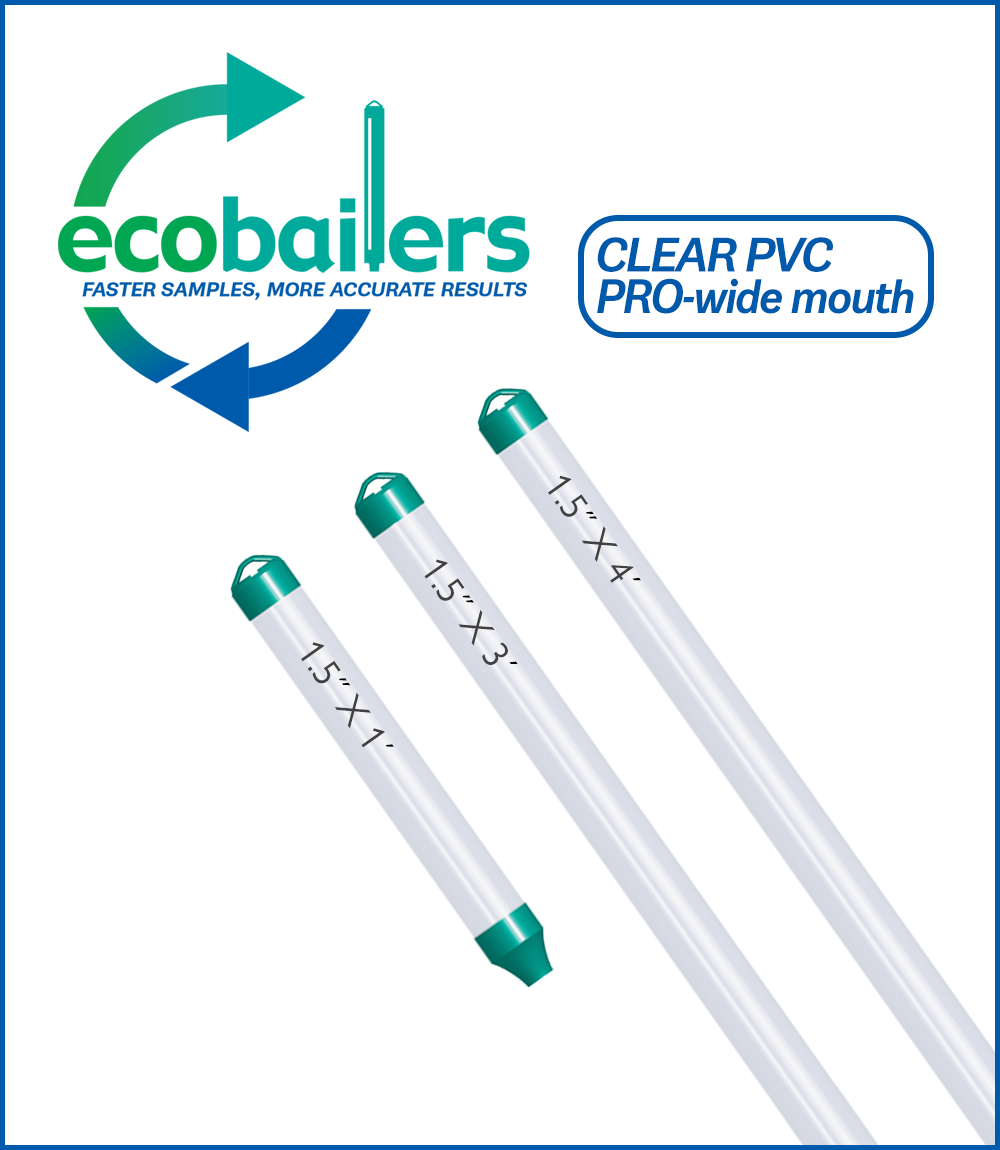 WEIGHTED CLEAR PVC ECOBAILERS - EVEN FASTER SINKING!
Same design as the popular Clear PVC eco Bailers. Weighted 1. 5 inch PVC and PVC-PRO eco Bailers feature a thicker tube wall. They are more robust.  Bent bailers rattle down the well and sink more slowly. 0.7 inch clear PVC bailers are also available in weighted format.
Clear PVC - Weighted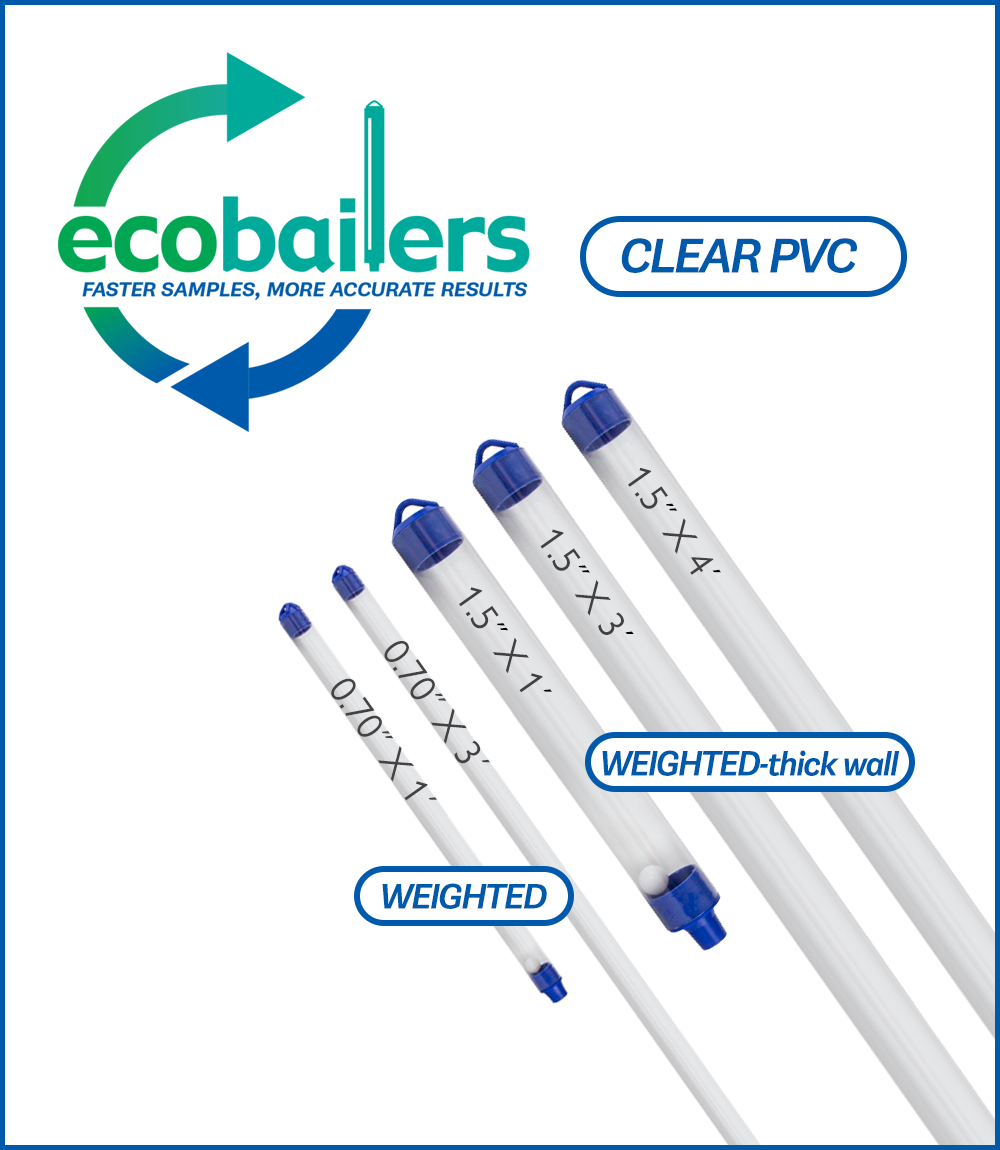 Clear PVC - PRO Weighted