Polyethylene eco Bailers for Sampling Groundwater
Polyethylene eco Bailers are available in 1.5 inch (38 mm) OD and 1 foot and 3 foot lengths.
All bailers are PFAS, PFOS & PFOA free.
Bailers are one of the simplest devices to collect groundwater samples from piezometers and monitoring wells. Basically it is a tube  that is attached to a retrieving line or cord and the tube has a bottom valve. Lower the bailer into the water column to the specified depth and then recover the bailer to surface. The pull up motion seats the ball in the valve seat thereby trapping the water in the tube. Use eco Bailer's handy bottom emptying device to recover your sample.
There are 2 types of Polyethylene eco Bailers:
Bottom Emptying
PE eco Bailers come with the handy  Emptying Device which can also be used to direct the discharge flow and also for collecting VOC samples.
Groundwater Filtration
PE eco Bailers are easily fitted to Waterra 0.45 micron Groundwater Filters.
Low Density Polyethylene (LDPE) tubing (1/4inch OD or 1/2 inch OD)  fits into the Bottom Emptying Device and connect with a Waterra Groundwater Filter. Bailed samples can be gravity flowed directly through the filter and captured in a sample container.  It usually takes less than 2 minutes (depending on turbidity)  to filter a sample this way.
Some things to think about!
POLYETHYLENE eco BAILER - REGULAR AND WEIGHTED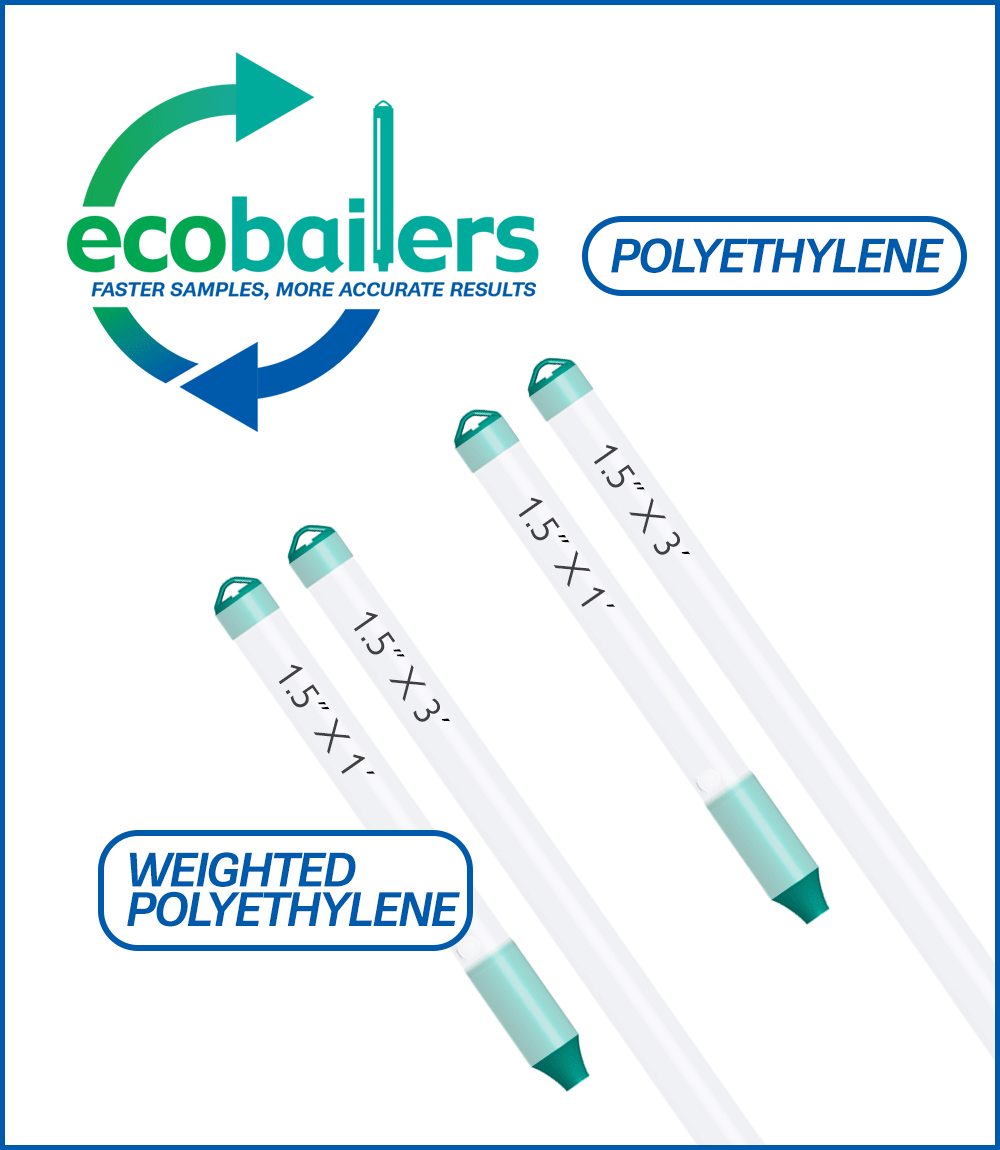 Regular and Weighted Polyethylene eco Bailers – use the same design as the popular Clear PVC eco Bailers. Featuring a thicker wall, they are less likely to bend when handled. Bent bailers will oscillate when travelling down the well column and they will sink more slowly.
| 1.5 inch (38mm) OD | 1.5 inch (38mm) OD |
| --- | --- |
| 1 foot | 3 feet |
| (25 cm) | (76cm) |
| 347 ml | 1027 ml |
| 24 per case | 24 per case |
| Regular and Weighted | Regular and Weighted |